TOGETHER, WE CELEBRATE OUR LOCAL FARMERS AND ENJOY AN EVENING OF FOOD, MUSIC AND COMMUNITY.
Pheast with us!
Together, we celebrate the farmers who make a market like ours possible and enjoy an evening of food, music, and community held in the heart of Phoenix.
November 17, 2019 | 5PM - 8PM
Attracting diverse visitors from around the valley, this celebration of neighborhood chefs and restaurants, utilizing fresh ingredients from Arizona's best farmers and producers, will be a highlight of the fall season. Between bites, guests can sip a special PHX Pheast cocktail, wine and beer while enjoying live entertainment from local musicians, and more.
PHX Pheast is a true farm-to-fork experience and reflection of the finest food from the best farmer's market in the Valley. We hope you will join us in support of Arizona farmers.
Tickets include sampling dishes from ten local chefs along with an open bar for the evening. Vegetarian, vegan and gluten free options will be available from some of the chefs.
2019 chef + farmer line up coming soon
Executive Chef / Owner FnB restaurant
Highlighting Steadfast Farm
As chef and co-owner of the award-winning FnB restaurant in Scottsdale, Charleen Badman is one of Arizona's most celebrated chefs. A five-time James Beard nominee for Best Chef of the Southwest, Charleen is known as the "veggie whisperer" for her ability to coax the very best flavor out of locally grown vegetables.
Executive Chef / Owner The Breadfruit + Rum Bar
Highlighting Community Exchange Table
Hailed as one of the top innovative chefs of the Valley, Executive Chef Danielle Leoni has lived up to that distinction with an avant-garde approach to blending Arizona farm-fresh ingredients with the tropical traditions of Jamaica. Under her stewardship, in 2008 The Breadfruit and Rum Bar introduced an entirely new cuisine to Arizona while redefining perceptions of tropical dining. Her passion for sustainable change within our food system from land to sea has brought her national recognition. Chef Leoni is an ardent supporter of the Arizona farming community, ocean conservation, seafood sustainability, zero waste and is dedicated to cultivating the next crop of culinary talent.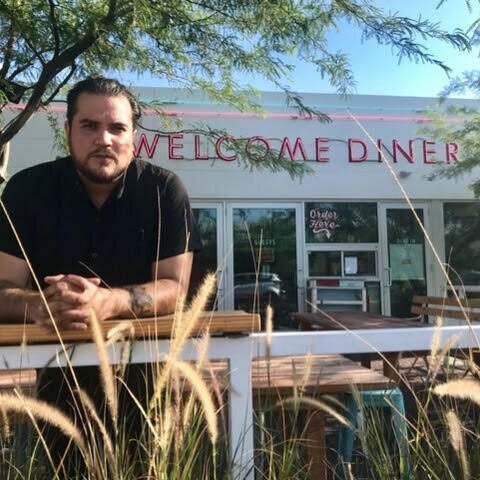 Welcome Diner is a farm to table, American Fare diner; of place in the Southwest/Sonoran Desert, roots set with a Southern tinge.
We scratch cook with the finest ingredients – made with integrity by our purveyor partners. We prize providing our guests with genuine hospitality. We strive to create a better experience for our guests every day. The Welcome Diner is located on the southwest corner of the 4 Corners commercial hub of 10th St and Pierce, embedded in the Garfield neighborhood, Downtown Phoenix. We started our hospitality journey in Garfield over 15 years ago, humbly, in a 200 square foot space – and had some epic times to boot throughout the years; we moved into our new digs in the late spring of '18. The Diner is committed to Garfield as it continues to evolve and develop as the special place it is and has always been.
Head Distiller, Chef SanTan Brewing Company
Highlighting BAMBOX, Yobro
Executive Chef / Owner Gallo Blanco
Highlighting Southwest Mushroom
While Gallo Blanco and Otro Café Chef and Owner Doug Robson hails from Mexico City, Mexico, his culinary inspiration spans well beyond the city's borders. A self-proclaimed "mutt" raised by a French-Vietnamese mother and a Scottish-English father, Doug wasted no time making a name for himself after moving to the United States, honing his skills at the likes of the Scottsdale Culinary Institute, Michael's at the Citadel and La Grande Orange before ultimately opening his two top-ranked metro Phoenix eateries. Nowadays, he continues to deliver authentic, decidedly "un-anglified" Mexican tastes and flavors at both locales, with his heritage, unbridled enthusiasm and unmatched dedication to his craft evident in every dish.
Image: Debby Wolvos
Executive Chef the larder + the delta
Highlighting Blue Sky Farm
Stephen has amassed a wealth of culinary expertise in his 39 years. One of the highlights of his career was working as a sous chef at Bradley Ogden in Las Vegas. "I draw on the experience of what we did there first and foremost, as we used the best local produce, meat, and dairy," says Stephen. He then served as Executive Sous Chef of Mk Restaurant in Chicago before moving to Phoenix. Then Chef Stephen served as Chef de Cuisine at Tarbell's, and as Executive Chef at Latilla at the Boulders Resort in Scottsdale, as well as opening chef of the downtown hot spot Blue Hound Kitchen + Cocktails.
In the spring of 2015 chef Stephen went to work on his own projects including the larder + the delta within Desoto Central Market. With the momentum building for the restaurant to have its own brick & mortar, in the summer of 2017 Chef Jones opened the larder + the delta in the Portland on the Park area of downtown Phoenix.
Executive Regional Chef of Taco Chelo and Phoenix Public Market Cafe
Highlighting Maya's Farm
Growing up on a farm in Monterrey, Mexico, Suny has fond memories of being in the kitchen and helping his mother make tortillas, menudo, posole and other Mexican dishes. When Suny moved to the U.S., his passion for cooking evolved. He took cooking classes at his high school and quickly realized this was his career destiny. He volunteered at catering events, cooked for his church, spent his nights reading cookbooks and watching cooking videos and went on to attend Phoenix College to pursue his culinary degree. In 2011, Suny went to Aaron Chamberlin on six different occasions to try and talk him into giving him a job – any job – to start his career. Chamberlin finally offered to test his cooking skills and after just 10 minutes he was hired on the spot as a prep cook. Fast forward seven years later, Suny has climbed the ranks to Executive Chef of two locations and a partner in Taco Chelo. When not in the kitchen - a rare sighting - Suny is at The Light of the World church where participates in the church choir.
Executive Chef 9 Degree North Catering
Highlighting Al Hamka Farm
Chef Billy Sims (9 Degrees North Catering) also support C-CAP Arizona. Careers through Culinary Arts Program (C-CAP) is a national non-prot that educates and guides underserved high school students toward a bright future. Through their holistic approach to culinary training and career exploration, C-CAP prepares students for the workplace through chef mentoring, eld trips, job shadows, work experience and job skills, and college and careers. C-CAP Students come out to the Phoenix Public Market weekly to run cooking demonstrations.